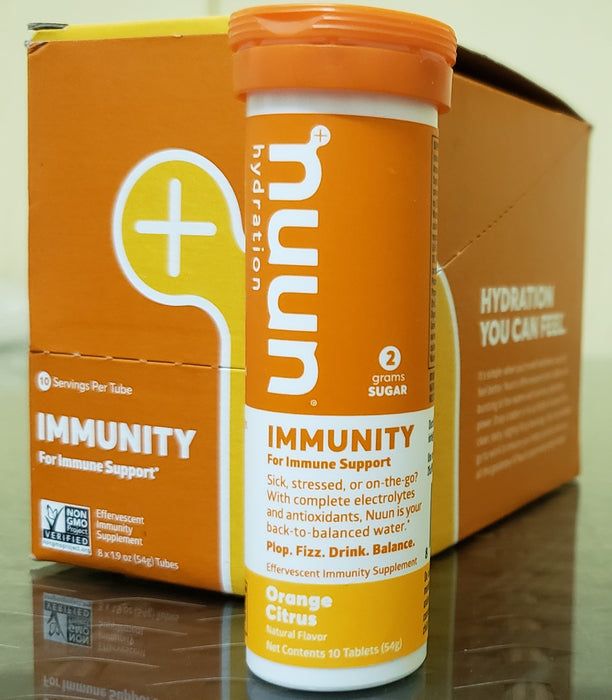 Nuun Immunity: Immune Support Hydration Supplement/ 8 tabs per tube
Sold by tube.
Nuun Immunity: Antioxidant Immune Support Hydration Supplement with Vitamin C, Zinc, Turmeric, Elderberry, Ginger, Echinacea, and Electrolytes. Flavor: Orange
Nuun Immunity's proprietary botanical blend is packed full of hydration-boosting Electrolytes, free-radical fighting Antioxidants, and internal recovery Anti-inflammatories. Includes zinc, turmeric, elderberry, ginger & Echinacea. 10 servings per tube.

Immune health supporting drink tablets are best used during: your workday to prevent onset of cold and flu symptoms, while traveling to supercharge your immune system against pathogen invasion, when sick for ongoing immune system support.

The crisp, refreshing Blueberry Tangerine & Orange Citrus drink flavors make it easy to create the habit of regular immune support. Keep a tube from this 8-pack in your car, purse, carry-on luggage or anywhere you'll want a healthy, restorative drink.

Athletes love Nuun Immunity for its post-workout recovery benefits. The positive stress from workouts can increase vulnerability to cold and flu symptoms, and Nuun Immunity provides an athlete's system with the support it needs to stay healthy and perform.

The baseline of a healthy immune system is HYDRATION, and that is the foundation of Nuun Immunity. Each serving (tablet) mixes into 16oz. of water to provide your body with a botanical boost and the H2O it needs for ongoing immune health.